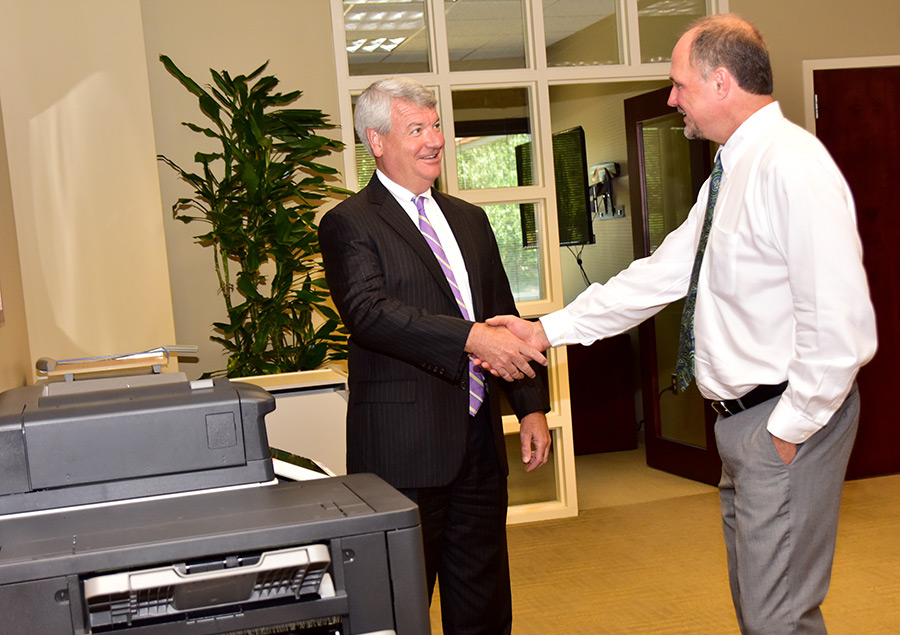 If you've ever printed a document to sign, only to then take a picture with your phone to upload or email it, you might need an all-in-one printer.
All-in-one printers combine the functions of many different devices (particularly printers, scanners, copiers, and fax machines), streamlining your business and saving you time and money in the process. In this guide, we'll explore what an all-in-one printer is and the functions that enable these multifunction machines to streamline your office, as well as provide some tips for choosing the right multipurpose printer for your organization.
Combining Business Functions
All-in-one printers can help you accomplish what would otherwise require multiple devices. They streamline multiple functions for your office and are also called multifunction printers, or MFPs.
What is an all-in-one printer? An all-in-one printer usually performs some combination of the following features:
Printing.

The main function of an all-in-one printer is printing. All-in-one printers typically offer a wide range of quality options in both color and black and white, and can usually perform duplex (double-sided) printing. Modern MFPs often allow users to print wirelessly from virtually any device over a network connection.

Copying.

All-in-one printers include either a flatbed scanner, an

automatic document feeder

scanner, or both. All-in-one printers are powerful tools for making quick copies of physical documents, and MFP manufacturers optimize the form factor of their devices to maximize speed and quality, even at high volumes.

Scanning.

Don't need to print hundreds of paper copies? MFPs can also scan documents to store on a computer (often via Wi-Fi or USB connection), send them to Google Docs, route them to your existing document management software, or write them directly to a USB drive. This is useful if you want to digitize paper documents (like "wet signed" contracts with written signatures) or if you need to easily transmit a document without faxing it.

Faxing.

Many all-in-one printers are still capable of sending and receiving faxes. You will need a phone line, so this feature has become less popular in the digital age, but it's a useful utility for businesses of any size or even individuals to have at their disposal when the need arises.

Optical Character Recognition.

Often sold as standalone software, Optical Character Recognition (OCR) algorithmically converts an image of text (like a scanned document) into digital text that's machine-readable and editable. Some all-in-one printers include OCR capabilities built into the device, which allow you to input paper documents and output digital PDFs that include editable text.

Stapling, Hole Punching, and More.

Some higher-end multipurpose printers include features like stapling, hole punching, folding, booklet making (a sequenced combination of stapling and folding), and saddle stitching. While these features are not standard for MFPs, they display the diversity and range of all-in-one printers available on the market.
While the features of all-in-one printers can differ, what they all have in common is that they replace the functionality of multiple devices, streamlining your office in the process.
Choose the Right All-In-One Printer for Your Office
Just as all-in-one printers can include a wide range of features, they can also come in a wide variety of sizes and forms. Choosing the right all-in-one printer for your office requires you to balance the needs of your organization with the needs of your space.
As you consider the features your office needs in an MFP, identify which features are your highest priorities. If speed is your main priority, you may want to shop for an all-in-one printer with a high ppm, or pages per minute. While lower-end home printers may only average 3 ppm, an all-in-one printer can print at 40-60 ppm (that's one page per second), or even higher.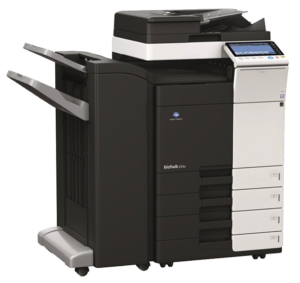 You should also consider your office's quality needs. Modern-day printing technology has made high-quality printing accessible on even entry-level devices, but there's a tradeoff between speed and quality, so keep in mind how you'll use your all-in-one device. One major example of this tradeoff is color vs. black and white printing. While color printing tends to be more visually appealing, it also usually results in a slower ppm as compared to black and white.
Shopping for an All-In-One Printer
As you look for the right all-in-one printer, Plus Inc. is here to help.
We offer state-of-the-art multifunction printers and managed network solutions to help businesses streamline their offices and accomplish more with less.